YIN & YANG CHAMPAGNE FLUTES
Ying & Yang Champagne Glasses
U0467-C11-XM5
CRYSTOCRAFT designed this gothic champagne glasses especially for the Swarovski 120 years anniversary event in 2015. While blending perfectly with bridal dress and bridegroom suit, the contrasting metal finishing of rose gold and jet black with matching Swarovski Crystals, symbolizes the Yin and Yang in a love relationship.
Swarovski's glittering 120th anniversary celebrations at World Jewelry Facets (WJF) 2015 opened in Shanghai with a star-studded launch event on June 11.  Crystocraft, being one of their 120 top branding partners, we had come together in a tribute to Swarovski's milestone anniversary.
PEACOCK TAIL ELEGANT FLUTES
Celebrate with these stunning champagne flute in a classic and elegant style. They also make an excellent gift idea for all celebrations including anniversaries, birthdays, annual dinner, grand openning and more.
Blooming Love Set of Wedding Glass
U0376-C11-CPI
SWAN LAKE
On the beautiful occasion, two souls are uniting to become one. Be the first one to bless them with Crystocraft! Ranges of wedding gift are to be selected.

No matter it is Couple Swans or Photo Frames, they are the perfect wedding gift.  May the spirit of forever love attained by our everlasting crystal creation capture your heart.
Couple Swans Figurine
U0313-001-CPI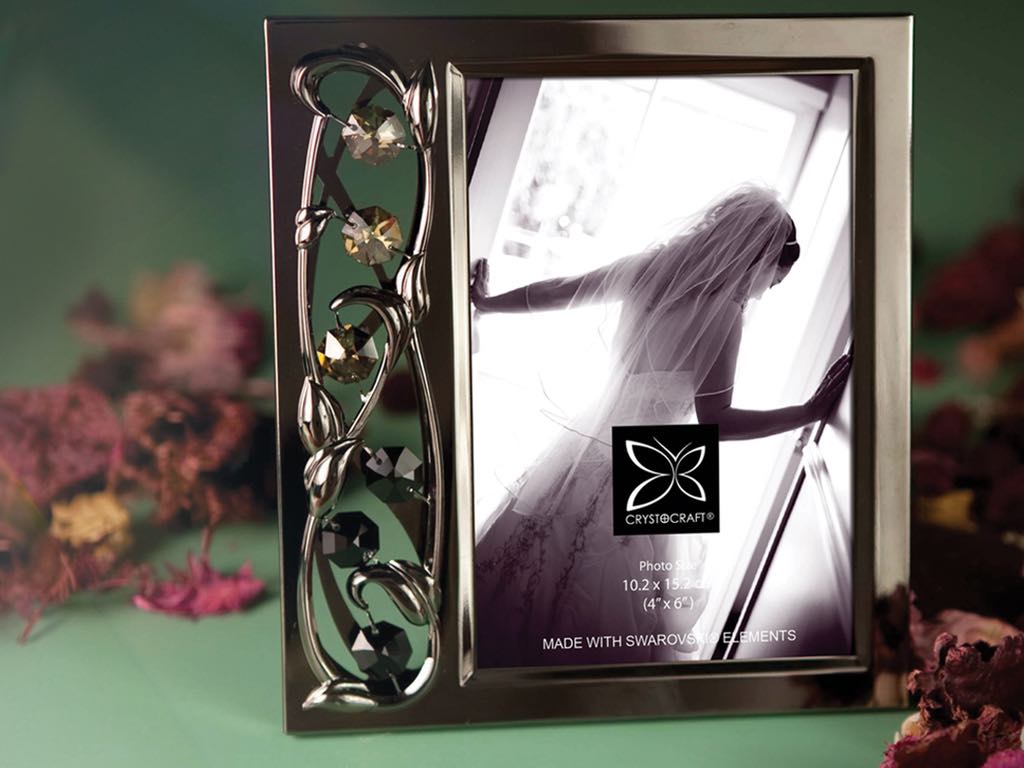 Evergreen 4R Photo Frame
U0366-164-AG2G
Kissing Swans 4R Photo Frame
U0368-164-CAXG
Start a happy ever after journey with stepping on the glorious carriage like Cinderella, and keep your remarkable moment inside our Wedding Photo Frames in memory of your eternal gladness. Different sizes of intricate carved photo frame s adorned with dozen of stunning Swarovski Elements, resplendently carrying your memorable photograph, makes your bliss the envy of all of the people along the way.
Wedding Carriage 2R Photo Frame
U0503-165-CC1G
Carriage Double Mini 1R Photo Frame
U0365-167-CC1
Heart with Love in Rose Gold
U0388-177-RC1
Love Knot 2R Photo Frame
U0386-165-RC1K
Couple Teddy Bears in a Swing
U0523-202-CMX
The stylish design of laser engraved patterns in combination with SWAROVSKI ELEMENTS makes our new dessert fork and tea spoon sets the perfect gifting idea for all occasions. The dessert forks and tea spoons are made of stainless steel and they are available in gold plating and stainless steel finishing.  Each comes in a set of six in a deluxe CRYSTOCRAFT gift box.
Ivy Pattern Teaspoon Set in Six
UC017-C08-GM1G
Couple Doves Jewelry Stand
U0505-C12-CPI
EXCLUSIVE Bomboniere
A wedding favour or Bomboniere is a take home gift that should be personalised to leave a long lasting impression on your guests. It is a unique keepsake you want your guests to remember your wedding day. The giving of the Bomboniere is also traditional for Bar/Bat Mitzvah, christenings, baptisms, communions, confirmations, and graduations.
Mini Swan Figurine
U0027-001-CC1
Cute Heart Mini Photo Frame
U0469-042-CRE
Mini Rose in Gold
U0355-001-GRE
Mini Heart Favor
U0171-001-CPI
CRYSTALLIZED BANQUET
Crystocraft is proud to cooperate with Swarovski Professional on a special promotion project of Cordis Hotel. The project Integrates luxury touches of Swarovski crystals in every experience of wedding banquet in Cordis.
LUXURY WEDDING RECEPTION
We also provide tailor-made solutions for hotels to give an extraordinary luxurious touches to their wedding banquets packages & receptions.